The Powerhouse Visitor Center passed a milestone on Wednesday, October 25, 2017, having opened its doors to visitors for 20 years. In that time, the Powerhouse welcomed nearly two million travelers, arriving from every state and all over the world.
When it opened in October 1997 (click here to see an article in the Kingman Daily Miner about the grand opening), the Powerhouse had a Visitor Information Center, Memory Lane 50's Diner, Historic Route 66 Association of Arizona Gift Shop, and a model train store. The Arizona Route 66 Museum was added in 2001.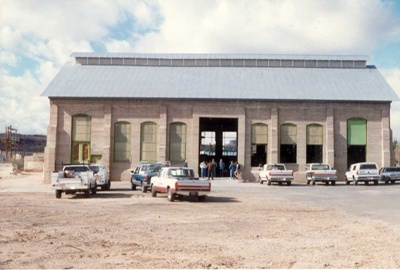 Picutred above: Ground breaking at the Powerhouse in 1996, courtesy of the Mohave County Historical Society.
Nowadays, the diner is no longer, with the Route 66 Gift Shop thriving in what was the eatery. And the train store is gone, survived by a large scale model railroad that makes its rounds in the building while the real thing can be seen just outside.
A Grand Canyon Skywalk information center and gift shop opened upstairs in the Powerhouse in 2011. Then in 2014, The 66 Kid Gallery and Route 66 Electric Vehicle Museum, the world's first museum dedicated solely to electric vehicles, were both added during the International Route 66 Festival.
A remodel of the Visitor Center at the Powerhouse was in the works after an enhancement study was conducted in 2008, but didn't get underway until May 2017. The quarter million dollar remodel, funded by the City of Kingman with contributions from the Historic Route 66 Association of Arizona, was finally completed early October 2017, just in time for the Powerhouse Visitor Center's 20 year anniversary.
The renovation project was coordinated by Burley Hambrick of the Public Works Department, and construction was completed by TR Orr, the same contractor that managed the original renovation in 1996-1997. Work included a new welcome desk at the Arizona Route 66 Museum, additional lighting, signage, store displays, new office and storage space, and one of the largest Arizona highway maps in the State of Arizona along with brochures from some 100 Arizona towns and attractions in newly installed brochure racks.
A front page article in 1997 about the grand opening, wrote "…the building officially begins its new life as a visitor center designed to generate tourism energy." As the first Arizona Visitor Information Center en route on Hwy 93 from Las Vegas, or Interstate 40 from California, the Powerhouse has certainly become a hub of visitor activity.
Next time you're traveling through, stop by the Powerhouse and let us help you to plan your Arizona or Route 66 adventure.